The Federal Reserve Bank of St. Louis and the University of Missouri-St. Louis invite you to their first-ever conference on housing data for the St. Louis region on June 2, 2011.  This deep dive into local housing data will include a sneak peek at a new constant quality housing index for the St. Louis MSA being developed by UMSL economist William Rogers.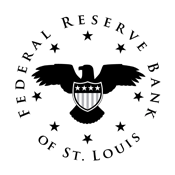 The Gateway Center for Giving President Mary McMurtrey will be part of the afternoon panel- Where's the Money? A Deeper Dive into Community Development in St. Louis.  Center members also on the panel include  Kirby Burkholder (IFF) and Patrick Adams (St. Louis Community Credit Union).
The afternoon program will build on the theme of the importance of accurate data in developing successful community development initiatives, including affordable housing, and provide an update on community development funding in the St. Louis region. Topics will include grants, equity, debt, tax credits, investments, new ideas and emerging trends. Presenters from the public, private, and third sectors will address the sources and uses of money and how it is or isn't flowing through the community.
In addition, the concept of "collective impact," a large-scale social change requiring broad cross-sector coordination, will be explored in the context of the intersection of philanthropy and community investment.
Presenters
Mary McMurtrey, president, Gateway Center for Giving
Patrick Adams, president, St. Louis Community Credit Union
Kathy Siddens, vice president and regional manager, U.S. Bank
Jim Holtzman, director of community development, St. Louis County
Stephen Acree, president, Regional Housing and Community Development Alliance
Kirby Burkholder, executive director, IFF-Missouri
Robert Boyle, CEO, Justine Petersen
Walker Gaffney, Creative Exchange Lab