The Gateway Center for Giving and the Missouri History Museum are partnering with The Teacher Salary Project and Microsoft Partners in Learning to present a screening of
A definitive look at the state of teaching in America that offers
a solution to the education crisis.
Join us for a FREE Community Screening
at the Missouri History Museum
December 14, 2011 2:30 PM
 Panel discussion to follow screening
Panelists to be announced soon

 CLICK HERE TO REGISTER
Please contact Lindsey Greenberg at 

[email protected]

 
with any questions or concerns.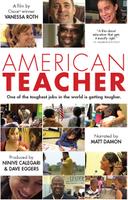 AMERICAN TEACHER is the feature-length documentary produced and directed by Academy Award-winning filmmaker Vanessa Roth; produced by Nínive Calegari, co-founder of the literacy non-profit 826 National, and best-selling author Dave Eggers; and narrated by Academy Award-winner Matt Damon.
AMERICAN TEACHER chronicles the stories of four teachers – Erik Benner, Jonathan Dearman, Jamie Fidler, and Rhena Jasey – who live and work in disparate urban and rural areas of the country. By following these teachers as they reach different milestones in their careers, the film tells the deeper story of the teaching profession in America today. The film shows us the experience of these four young teachers as they recognize the importance of what they do, and how much they love what they do, but ask: can I afford to continue to teach?
Undeniable research shows that a child's school success depends on quality teaching. In the next ten years, more than half of the current 3.2 million teachers will be eligible to retire. We will then have a choice: continue with the current, broken system of trying to attract talented college graduates to the teaching profession by offering low pay, long hours, little support, and no prestige – a system that results in high turnover and low morale and translates into 85 percent of graduates refusing to even consider the profession. Or we change: increase compensation and improve conditions to attract the best college graduates who might otherwise go into law, finance, or other lucrative fields. With the best and the brightest in the profession, schools will get better.